6 Great Breweries To Visit In Norfolk
East Anglia is known for being home to of some of the best breweries in Europe. Brewers here have long maintained the tradition amidst fields upon fields of the world's best malting barley. These days, with the help of refined technology and the rising popularity of craft beer, the independent brewing scene is thriving. Beer is not only a beverage, but a whole field which is simultaneously an artistic endeavour, a culinary speciality, and a branch of science.
Breweries are a point of pride for Norfolk, so if you have an interest in the art of brewing or you just like to drink beer, don't miss the opportunity to visit some of the best local breweries. We have compiled a list of some of our favourites for your next birthday, office party, or family day out. Of course, you can always rely on ABC Taxis to get you there and back.
Redwell Brewery
The Arches, Norwich, NR1 2EF
Founded in 2013, Redwell is one of the first craft breweries in the UK to offer an entirely vegan and gluten-free range. Situated just outside of Norwich city centre near Whitlingham Country Park, the brewery boasts one of Norwich's biggest beer gardens, making it an especially perfect destination in warmer months.
Redwell is all about the vibes, and they organise monthly brewery tours that you can join, as well as numerous other beer, music, and craft events. They also offer tours and tasting sessions with their head brewer, which can be booked for private groups.
As for their beer, their popular range includes a crisp pilsner, a fruity extra pale ale, and a super-hopped west coast PA, but they also experiment with hybrid brews such as their Steam lager and White IPA.
Woodforde's Brewery
Slad Lane, Woodbastwick, NR13 6SW
If you have been to the pub in Norfolk, you will undoubtedly have heard of Woodforde's Brewery. The company was born back in the 60's, when a pair of good friends with a passion for homebrewing and authentic flavours began handcrafting their own beers. In 1990, the brewery won CAMRA's 'New Breweries Champion Beer of Britain' award with its Wherry – a beer it is still famous for today. Since then, the brewery has won over 130 awards for its delicious creations.
The brewery in Woodbastwick (about 20 minutes from Norwich by cab) welcomes visitors to book a brewery tour online for just £15. Of course, you can also pop in for a pint or book a table at their very own country pub, which is called Fur and Feather.
The Wolf Brewery
Norwich Road, Besthorpe, NR17 2LA
The Wolf Brewery is another well-established Norfolk brewery. Founder Wolfe Witham was well known in Norwich during the 1980s as the man behind the Reindeer brewpub, which was very popular at the time. The brewery first opened in 1995 on the former Gaymers Cider site in Attleborough, but outgrew those premises and invested in a new brew plant in 2006. They have now also installed their own bottling plant so that their prize-winning ales can be enjoyed further afield.
The Wolf Brewery is a member of the East Anglian Brewers' Co-Operative, which is working with local farmers towards 'full traceability' – meaning the beers they brew can be traced all the way from grain to glass. Among the brewery's prize-winning beers are Straw Dog (wheat beer), Coyote ('a well balanced hoppy ale'), and Golden Jackal ('a hoppy thirst-quenching golden session bitter').
You need to contact the brewery in order to book a tour, but it also has a shop where you can buy their beers as well as other bits and pieces. (You can also order beer from the Wolf online!)
Lacons Brewery – The Honingham Buck
The Street, Honingham, Norwich, Norfolk, NR9 5BL
Located in Great Yarmouth, Lacons is a well-established Norfolk brewery that has been around since the mid-18th century, and moved into its current premises in 2013. But Lacons does more than just beer, distributing over 2,000 product lines including beer, wine, spirits, and soft drinks.
Lacons Brewery is well-known for Lacons Encore, an award-winning amber ale, as well as the rest of its multi-award winning core range. This is complemented by their seasonal beers, including small batches of heritage ales and keg beers which include Quell, a cult favourite, and the hoppy Steam Craft Lager.
Unfortunately, the brewery does not advertise tours. However, since 2015, Lacons has operated a public house in the village of Honingham. There, they showcase their multi-award-winning ales complemented by a locally-sourced contemporary menu. The public house also has 8 luxury en-suite rooms available, making it the perfect place for a weekend getaway.
Humpty Dumpty Brewery
Church Road, Reedham, NR13 3TZ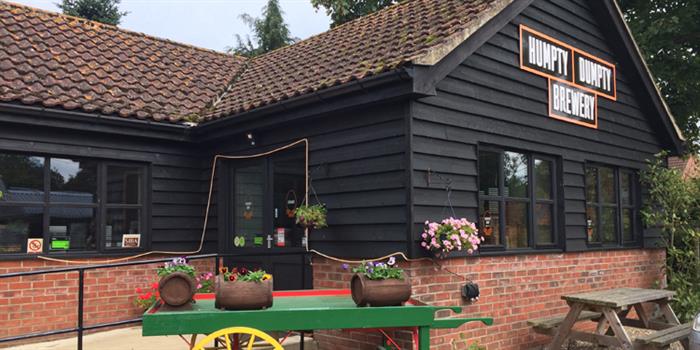 Humpty Dumpty Brewery is known for creating delicious real ales since 1998. Based in Reedham at the heart of the Norfolk broads, the 18-barrel microbrewery's playful name comes from a type of steam locomotive which operated on the Norwich-Lowestoft line in the early 20th century. These were-front heavy, and looked as though they might fall off the line, which led to the nickname Humpty Dumpty.
Humpty Dumpty Brewery is great to visit for its on-site shop (open daily from Easter to November), which sells a full range of their bottled beer and branded merch as well as other local produce including cider, wine, and soap among others. You can also arrange a brewery tour and tasting which can include a fish and chip supper. Do note that there is a minimum number of guests, and availability depends on working schedules.
Chalk Hill Brewery
Rosary Road, Norwich, NR1 4DA
Chalk Hill Brewery is the longest-running independent brewery in Norwich. The custom-built, 15 barrel brew plant was developed simultaneously with the Coach and Horses next door, starting in 1993. The founders were Bill Thomas, Tiny Little, and David Blake, a group of friends with mutual interests in sailing and beer. When the pub opened in July '93, it served some of Chalk Hill's first real ales, including Chalk Hill Best. This bitter has been refined over the years into the brewery's best, and remains a favourite for many. 
They now brew a range of seven real ales, which they continue to supply the Coach and Horses, as well as the Alexandra Tavern on Stafford Street. They were first featured in CAMRA's Good Beer Guide in 2018. The brewery offers free tours on request. These are led by head brewer Robbie, and last about 45 minutes, finishing with a tasting session.