An In-Depth Look At Our Eco Fleet
At ABC Taxis, we prioritise efficiency as well as the comfort of our drivers and passengers alike. As a company, we are conscious of the effects of road transportation on the environment. That is why our eco fleet of taxis consists entirely of top-of-the-range hybrid cars and efficient minivans. Curious about our eco vehicles? Join us on an in-depth tour of their key specifications and highlights to find out what makes them comfortable, efficient, and environmentally friendly.
(Please note that all of the below vehicles are available with a variety of options, and we have selected particular ones to give you an idea of their specifications. The below specifications do not apply to all of our cars.)
Toyota Auris Estate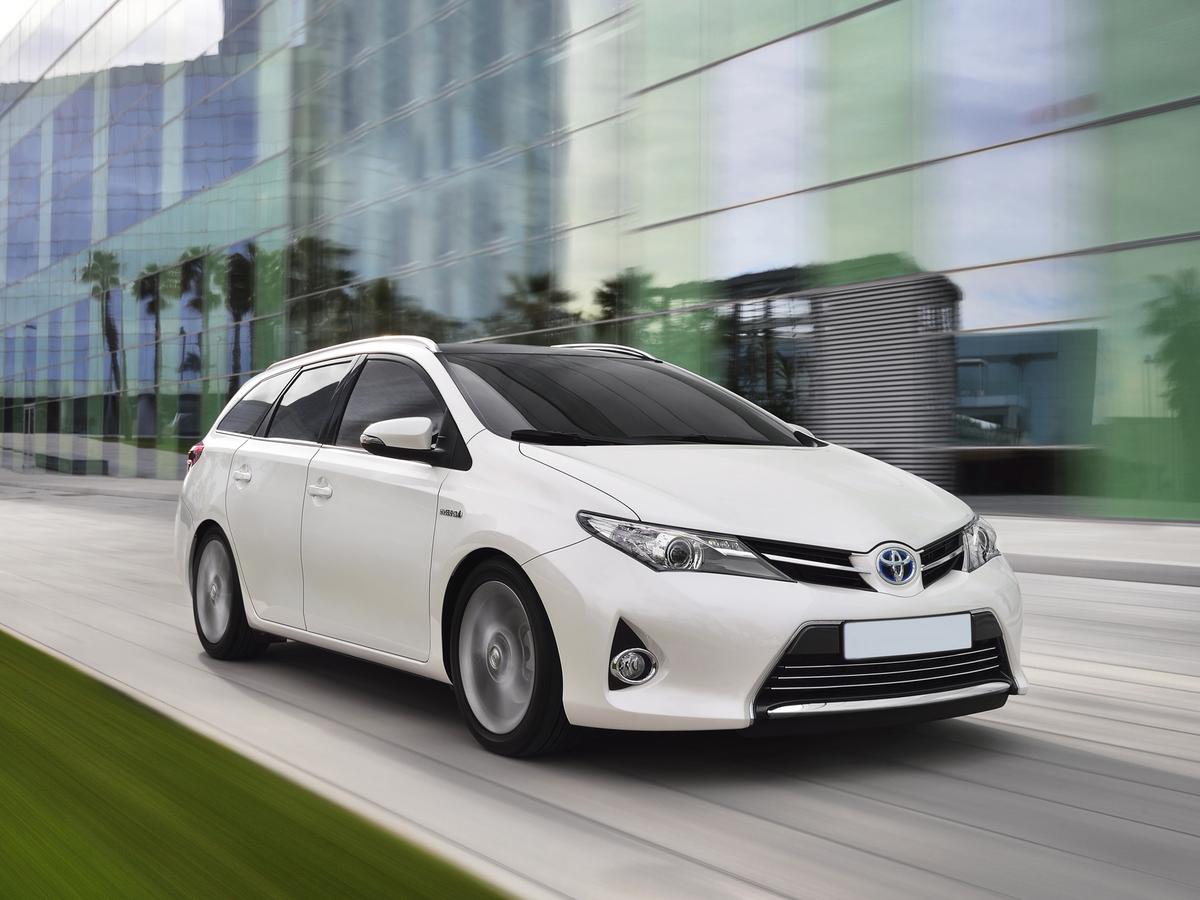 The Toyota Auris Touring Sports (aka estate) hybrid is well-known as a reliable and competent vehicle. The more recent revival of the Corolla in hybrid form (which also features in our fleet), has largely replaced the Auris as Toyota's go-to hybrid car. However, the Auris still has many admirable features, including its unfussy, functional design and spacious interior.
The Auris hybrid is often complimented for how relaxing it is to drive thanks to its supple suspension and minimal noise both inside and out. It also has a spacious boot which makes it perfect for taking passengers to the airport or train station.
Specifications (1.8L VVT-i Hybrid):
| | |
| --- | --- |
| Power | 134bhp / 100 kW |
| Battery capacity | 6.5 Ah |
| Top Speed | 112 mph |
| 0-60 mph | 11 secs |
| CO2 | 93 g/km |
| Emissions standard | Euro 5 |
| Fuel consumption | 70 mpg |
| Luggage Capacity | 507 L |
Because the Auris has been around since 2009, it is not the most efficient of the hybrid vehicles available today. However, Toyota is a trailblazer in the world of electric cars, having released the first hybrid Prius in 1997. The Japanese manufacturer has proven time and time again that they are committed to constant innovation, and this can be seen in the newer hybrid Corollas.
Toyota Corolla Estate
Named Car of the Year 2020: Hybrid Winner by WhatCar?, the Toyota Corolla Estate Hybrid is an undeniable industry leader. The especially efficient and smooth-driving new models have taken the Hyundai Ioniq's place at the top of the ranks. Unsurprisingly, the car has excellent reviews, with frequently mentioned pros including its efficiency, super smooth handling, seamless transitions between electric petrol and electric power, spacious interior, and roomy boot.
Specifications (1.8L VVT-i Hybrid):
| | |
| --- | --- |
| Power | 120 bhp |
| Battery capacity | 3.6 Ah |
| Top Speed | 111 mph |
| 0-60 mph | 8.5 secs |
| CO2 | 76 to 83 g/km |
| Emissions standard | Euro 6 AM |
| Fuel consumption | 55.4 to 65.9 mpg |
| Luggage Capacity | 598 L |
Hyundai Ioniq
The Hyundai Ioniq is also a leader in its field and a muti-award-winning one at that. The best thing about this hybrid vehicle is its ability to drive on electric power only, and therefore to travel decent distances (up to 39 miles for the Plug-In Hybrid) with zero emissions. In many ways, it is similar to the Kia Niro – both cars are sold in three electrified forms: a hybrid model (petrol engine + electric motor), a plug-in hybrid (with a bigger battery that can be charged externally for more range), and a pure electric vehicle (EV).
Unlike many hybrids, which are fitted with CVT, single-speed gearboxes, both versions of the Hyundai Ioniq Hybrid have a six-speed dual-clutch automatic gearbox, making it much smoother and quieter than the average CVT. The interior design of the Ioniq furthers the car's exceptional efficiency, with lightweight materials selected specially to reduce the vehicle's weight and fuel consumption. The car also has great aerodynamics, with a class-leading drag coefficient of only 0.24.
Specifications (Hybrid 1.6 GDI):
| | |
| --- | --- |
| Power | 141 bhp |
| Battery capacity | 1.56 kWh |
| Top Speed | 115 mph |
| 0-60 mph | 10.8 secs |
| CO2 | 84 g/km |
| Emissions standard | Euro 6d-Temp |
| Fuel consumption | 78.5 mpg |
| Luggage Capacity | 443 L |
Toyota Prius
As we have already mentioned, the hybrid Prius has been around for over 20 years, and it has evolved significantly over that time. Named Green Car of the Year 2016 by Auto Express, the Prius can drive at up to 36mph on electricity alone when sufficiently charged (if you're gentle on the accelerator), meaning it is exceptionally quiet and relaxed for driving in the city.
At motorway speeds, the petrol engine kicks in for additional power, but drivers say this is unobtrusive and still relatively quiet, emitting little more than a faint drone during steady driving. If you floor the accelerator, however, the CVT gearbox will send the revs shooting up and cause some engine boom. The Prius Hybrid is popular for its low servicing costs and excellent fuel economy, even when set to four-wheel drive. The Prius is also the most efficient non-plug-in hybrid.
Specifications (1.8L Petrol Hybrid Automatic):
| | |
| --- | --- |
| Power | 122 bhp |
| Battery capacity | 7.2 Ah |
| Top Speed | 112 mph |
| 0-62 mph | 10.8 secs |
| CO2 | 75 – 84 g/km |
| Emissions standard | Euro 6DG |
| Fuel consumption | 59.6 – 67.3mpg |
| Luggage Capacity | 502 L |
Mercedes-Benz Vito
The Mercedes Vito is a popular minivan among taxi firms, as it is designed to be ideal for urban operations and frequent recurring trips in terms of its efficiency. There are many options to choose from in the Mercedes Vito range, including diesel engines, the fully electric eVito, panel, crew, and tourer vans, and even the black cab edition.
The Vito Tourer van offers comfortable seating for up to 9 people, as well as plenty of room for luggage. It's available in various options, including three vehicle lengths and two trim lines, meaning the van is customisable and versatile. Many of these models include BlueEFFICIENCY packages as standard, meaning they come with smart eco features such as ECO start/stop which turns of the engine when stationary, a smart alternator which recharges the battery when coasting or braking, and rolling-resistance optimised tyres.
Specifications (114 Tourer Pro L2 Auto):
| | |
| --- | --- |
| Power | 102 bhp |
| Battery capacity | N/A |
| Top Speed | 120 mph |
| 0-60 mph | 11.8 secs |
| CO2 | 171 g/km |
| Emissions standard | Euro E6 |
| Fuel consumption | 44 mpg |
| Luggage Capacity | 550 L |
KIA Niro
When talking about efficient cars and especially top-of-the-range hybrids, the KIA Niro is another one that is sure to be mentioned. Thanks to its SUV-like design, the Niro has a comfortable, spacious interior that allows for a natural seating position in the front and the back, as well as an excellent view of the road.
The Niro Plug-In Hybrid, like most EVs, is practically silent in electric mode, and even its fuel engine is very quiet, making it very pleasant to drive. The regular hybrid, too, is often praised for the seamless (and nearly imperceptible) way the petrol engine and electric motor work together via its six-speed automatic gearbox. Like most hybrids, it also has a regenerative braking system to recover energy.
Specifications (1.6 GTI Hybrid 3):
| | |
| --- | --- |
| Power | 139 bhp |
| Battery capacity | 8.9 to 15.6 kWh |
| Top Speed | 101 mph |
| 0-60 mph | 11.1 secs |
| CO2 | 100 g/km |
| Emissions standard | Euro 6 |
| Fuel consumption | 65.7 mpg |
| Luggage Capacity | 382 L |
Summary
By riding with ABC Taxis, you can rest assured that the utmost care has been taken to ensure efficiency and comfort. We care not only about customer satisfaction, but we are also committed to doing our part to reduce non-renewable energy consumption, harmful emissions, and even noise pollution thanks to our expertly selected fleet of eco-cars.