7 Unique Wedding Venues In (And Near) Norfolk
It's finally spring! Storms are subsiding, the sun is becoming less shy, and the clocks are going forward again at the end of the month. Butterflies are back and spring fever is in the air, and perhaps your wedding plans and dreams for the summer are suddenly springing to mind, putting a spring in your step, and making you want to spring into action.
Of course, you want your wedding to be as special and perfect as can be, including the venue, the food, the guests, and the decoration. What better place to achieve that than the East of England, with its stretches of coastline, rolling countryside, history-packed towns and villages, and countless unique venues?
If you have something a little different in mind, but you're not quite sure what, check out these 10 stunningly unique wedding venues in and near Norfolk for inspiration! Just maybe, one will even stand out to you as a candidate…
Happy Valley, Grimston, PE32 1DN
Happy Valley describes itself as a 'magical woodland venue and glamping retreat'. The venue is situated in 9 acres of woodland, and features stripped-back barns with original features, a lake with its own island, glamping accommodation, a luxury lodge for a bridal suite, and beautiful landscapes. The venue is suited for around 150 guests, with various options available. Why not find out more by registering for their Wilderness Wedding Fair and Open Day on the 26th of April?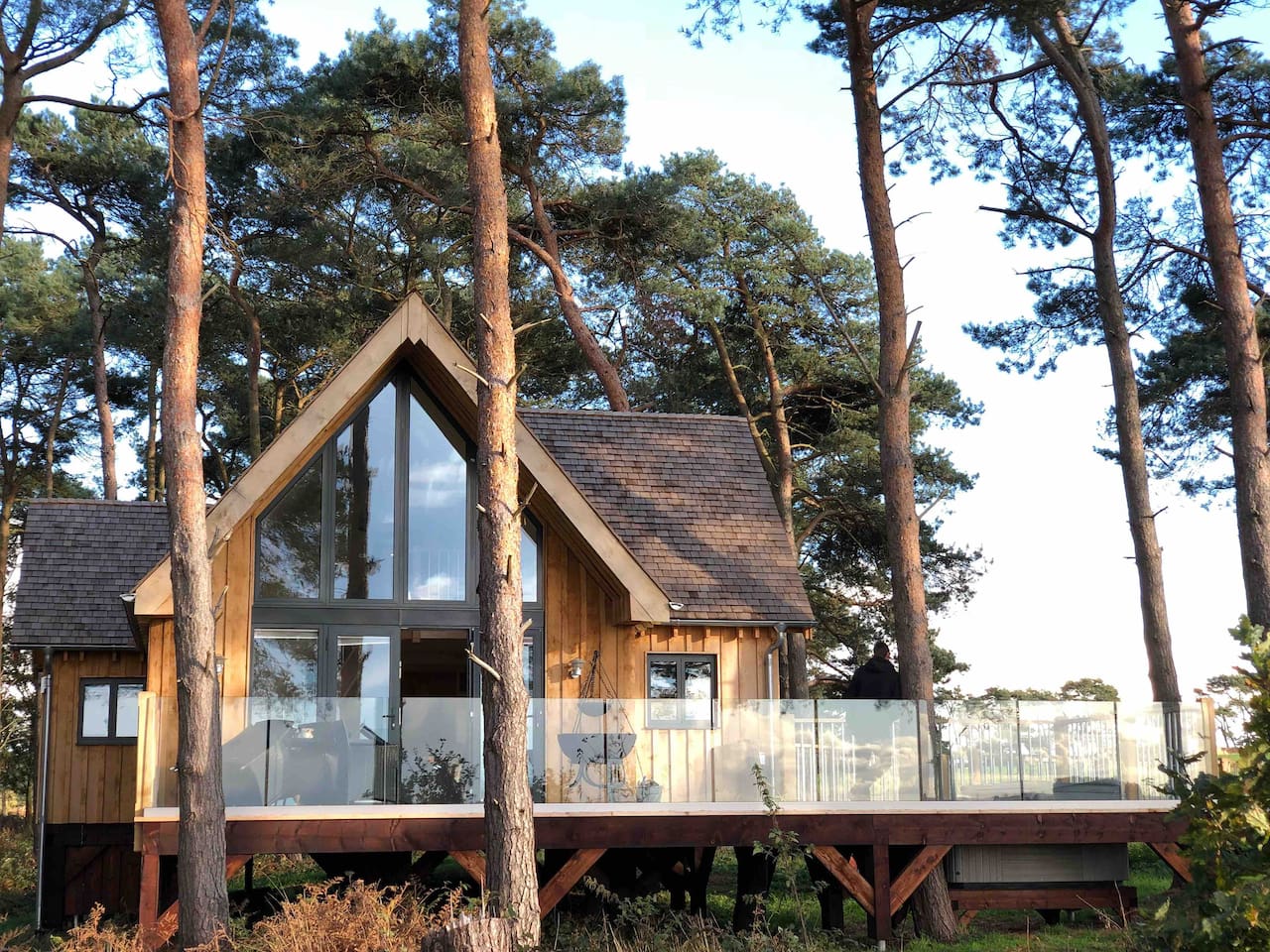 The Keeper And The Dell, Ringland, NR8 6JW
A truly relaxed and inviting atmosphere, The Keeper and the Dell is a fully licensed secluded venue which boasts its rustic barn, traditional canvas marquee, camp kitchen and saloon, fire pit, and ancient woodland setting. Surrounded by a medieval grove, it's open from June to September, when the romantic country setting can be used by brides and grooms and their guests to marry, celebrate, and sleep under the stars. The owners of the venue take pride in offering their guests exclusive use of the venue over a weekend, as well as a lot of creative freedom and options to choose from.

The Boathouse, Ormesby Broad, NR29 3LP
Amidst 11 acres of scenic parkland on the banks of Ormesby Broad is The Boathouse – a country fayre pub and unique wedding venue. The Boathouse has it all, from fine dining to fully equipped luxury woodland lodges. It promises idyllic romance and enchanting views, and offers space for up to 120 people. There is a spacious outdoor terrace overlooking the water for alfresco receptions, as well as a private indoor bar with dance floor. The Boathouse is decorated in a contemporary, 'New England' style, designed to fit seamlessly into the nature around it.
Thursford Garden Pavilion, Fakenham, NR21 0AS
Thursford Garden Pavilion is a uniquely versatile venue that prides itself on providing extraordinarily elegant and luxurious wedding experiences. You can choose from a selection of areas for your special day, including al fresco ceremony areas, a rustic barn, a posh pavilion, and, excitingly, their 'magical museum' with its gelato parlour, vintage fair rides, and other historical curiosities. On top of that, newlyweds can choose to stay at the Holly Lodge – an 18th century period property with some elements even dating back to the 13th century.  The lodge includes a bridal suite and a converted stable which can sleep 12 guests. It was once used as a stopover for pilgrims on their way to the shrines at Little Walsingham, giving it a sense of real historical magic. 

The Fire Pit Camp, Wendling, NR19 2LT
If you love glamping and festival-style weddings, consider booking the Fire Pit Camp for your special day. The venue is fully licensed in- and outdoors, and offers exclusive use of its campsite as well as the warehouse, vintage caravan, and retro bus for your wedding. The campground offers much to explore, including an intimate meadow for outdoor ceremonies, natural fields, glamping accommodation, a large fire pit, an industrial warehouse with covered alfresco dining area, an outdoor bar and celebration area, and a vintage double-decker bus. And the bridal suite is a handmade hazelwood dome! All the necessary amenities are available, including bathroom facilities, hot water, and electric/solar power. If you love festival vibes, being surrounded by nature, and being eco-conscious, make sure you find out more about the Fire Pit!
Cley Windmill, Holt, NR25 7RP
For more intimate ceremonies and/or receptions for up to 25 people, consider booking Cley Windmill for your unique wedding venue. The windmill's beautiful round dining room is fully licenced for ceremonies. There are also a balcony and a garden, perfect for scenic wedding photographs! Cley Windmill offers b&b rooms which can accommodate 16 guests, or up to 20 if you also book the nearby self catering cottage – The Old Bakery.

Felbrigg Lodge Hotel, Aylmerton, NR11 8RA
Situated within seven acres of woodland and gardens, Felbrigg Lodge Hotel is a beautiful wedding venue ideal for more intimate gatherings of up to 34 people. The wedding package gives you exclusive access to the hotel's twelve beautiful rooms, including the honeymoon suite, and most importantly, the hotel's very own heated indoor swimming pool, sauna, and hot tub. The Lodge is perfectly situated, close to the parkland walks in the National Trust's Felbrigg Park, and only four miles away from the coast.

Whether you're just looking for inspiration or ready to make decisions, we hope our list of extraordinarily unique wedding venues in the Norfolk area has given you some great ideas. As always, you can count on ABC Taxis for all your taxi needs, whether you're viewing wedding venues or getting married. Enjoy the spring and enjoy the sunshine!